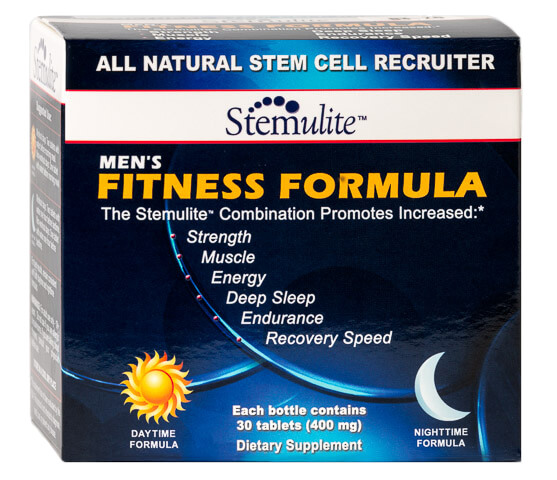 Get Your Stemulite Free Trial before you buy?
New Easy Swallow Caplets

Strengthen Immune System

Increase Strength

New Muscle Development

Best Sleep of Your Life

Faster Recovery

Gain Endurance

Reach A New Healthy Level
Hello,
Stemulite Fitness Formula uses cutting edge stem cell technology to recruit dormant adult stem cells from your bone marrow to promote and help your body repair and GROW NEW MUSCLE. Stanford University conducted sponsored research to show that an active molecule within the formulation of Stemulite Fitness Formula does in fact repair and grow new muscle tissue.
Maintaining the many benefits Stemulite Fitness Formula has to offer is simple, just stay on the program consistantly, every morning and every night. Take your Stemulite every twleve hours. Nightime Formula should be taken just before bed, then try to time your Daytime Formula twelve hours later. Can be taken with or without food.
Automatic Stemulite Delivery - Save Money With Auto-Ship - 30% Off


Gary Brackett former starting linebacker and Defensive Captain for the Indianapolis Colts has something to tell you about Stemulite Fitness Formula. The Colts are the 2009 AFC Champions and Gary was top defensive player in Super Bowl 44 with 13 tackles. Gary has recommended Stemulite to his team mates and other players. Get your Stemulite Fitness Formula Advantage Today!
We also offer many discounts for volume orders and auto-delivery for Stemulite Fitness Formula. We have 28 Day Auto for men, Mens X2, and by the case. Keep your Stemulite Fitness Formula coming automatically and SAVE. Please remember that you can skip deliveries or cancel any time, just call or send us an e-mail!
As always we encourage you to call anytime at 541-997-6100 or drop us a line here at the website. We are here to service your needs and to answer your questions anytime. MORE INFORMATION
We wish only the best results for our clients. We really want to stress the importance of regular use and want to encourage you to let us know how YOU are doing! We strive to provide the highest quality products and service to all of our customers.

*Results may vary from person to person depending upon various factors
**These statements have not been evaluated by the Food and Drug Administration. This product is not intended to diagnose, treat, cure, or prevent disease.